Pre-rental exhibition tools for special and standard booths, and application for electric service
1、 Exhibitors shall make reservation for electric service and exhibition tools required not later than Nov. 1, 2018 with Guangzhou Haoming Exhibition Service Co., Ltd.
2、 Reservation made after the deadline will be charged with an extra 30% fee.
3、 All reservation orders cannot be changed, cancelled or refunded, and must be returned together with the payment.
4、 If requiring trademark scanning, computer typesetting, photo spray painting, banner making, standard booth refitting and special decoration, the exhibitor must contact Haoming Exhibition Service Co., Ltd. in advance and offer relevant materials.
B-1 特装用电申请表(为保用电安全、特装用电上限电箱必须租用)

备注:不含税金如要开票另加8%
B-2 展具、灯具设施申请表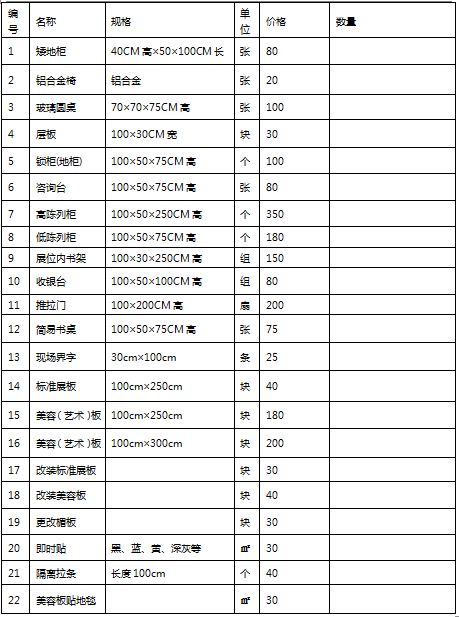 备注:不含税金如要开票另加8%。
展具租赁图: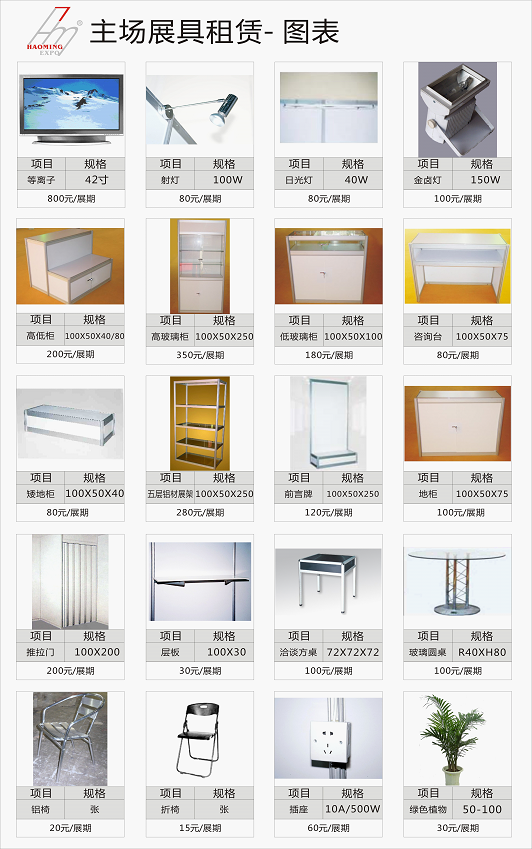 备注:不含税金如要开票另加8%
B-3 电话及宽带端口收费标准

备注:不含税金如要开票另加8%。
以上租赁联系方式:广州市昊明展览服务有限公司
李绮颖:020-34250968;qq:913932307;手机:18826250348